Vogue Patterns has released their summer collection! I always kind of love Vogue because the patterns are a little more interesting & intriguing, from a construction perspective, than a lot of what is out there. But every collection is also always just a little bit batshit. Let's go to the tape:
Make this look for Halloween. Tell everyone you're dressed as a badminton net.
This is giving me sexy Mennonite vibes. Imagine it with the little white bonnet. Perfection.
A chic look for your next pelvic exam.
Two words: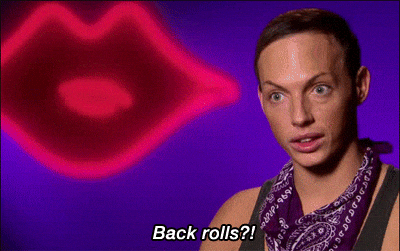 Try it with contrasting underwear. Really push the limits of those public indecency laws.
There's zero chance that one of those ties isn't going to fall into the toilet the first time you try to use the bathroom in this thing. & every time thereafter.
All the glamour of a broken neck, with none of the traction!
This isn't interesting enough to drag, but I do have questions about those lapels (?), & the choice of a tangerine manicure with a plum dress. A rainbow of fruit!
I kind of like this design, but the stripe placement across the bust makes her breasts look like they are peeking at the neighbors through the Venetian blinds.
I remember when this was originally sold as part of Fashion Bug's prom 1989 collection.
For when your breasts require an old-time-y mustache disguise.
Honestly not a bad design, & the fabric doubles as a Magic Eye poster for when you get super-high!
Category is: slutty Easter pinafore realness!
What Sporty Spice might wear upon transitioning into life as a four-martini lunch Kensington housewife.
My grandmother 100% had this outfit. She also got drunk in her RV in the driveway while watching "The Price is Right" every day.
Summertime: when you just want to drape yourself in fifteen yards of unnecessary fabric.
Upcycle your Aunt Sherry's old couch into this easy, breezy two-piece!
Do your bridle at the sky-high expectations of those other sewing patterns, which expect you to be able to sew in a straight line & not leave unsightly puckers every two inches? Have we got the design for you!
Nothing says fun in the summer sun like a knock-off safari vest from K-Mart with built-in saddlebags!
For everyone who found Named Patterns' Kielo dress too flattering.
Batgirl eleganza!
For those days when your breasts are just looking a little too perky.
She seriously looks like she's wearing a little girl's pinafore as a top. Which…no shade. That was totally how I dressed in high school.
In case you require a pattern for cutting a hole in a pillowcase & calling it a dress.
Just because you're not pregnant doesn't mean you can't look the part!
This RTW swimsuit is working hard for its money. & the cover-up can double as a windshield sun cover!
Mother/daughter pimp hats.
The color combo here instantly made me think of: