day 8: Jared started a new job today! He's a substitute teacher in the Kansas City schools. So I was really looking forward to the day, knowing I was going to be spending it with Ramona, just like it used to be when she was a toddler & Jared was teaching at KU. He basically stopped working after my cancer diagnosis, which was more than a year ago, because I needed so much extra help with my health in decline. So his starting a new job was a sign that things are returning to normal.
Ramona & I had a great day playing together, & mostly I just worked on my sewing plans for the next couple of months. I've committed to a couple of guest blog posts, which require sewing on a deadline, & I'm participating in a few other challenges & thinking about trying a Pattern Review contest.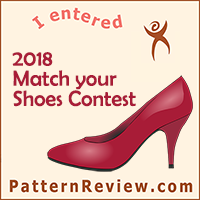 Patter Review could really stand to update their branding. That swirly-headed stick figure character is giving me major flashbacks to, like, the 1992 Rock the Vote campaign. & not in a fun, nostalgic way.
I didn't really get my hands on any fabric until Jared came home, when I finally had some time to go upstairs & cut out a few new projects.
(PS–I love my cutting table set up! The dedicated lights & the hanging bar for my rulers, scissors, & pattern weights–the best!)
day 9: One of the challenges I am trying my hand at is the 52-Week Sewing Challenge, which seems to be consolidated primarily in a Facebook community. There's a different prompt for each week, but the goal is really just to sew something every week. You'd think this would be kind of an irrelevant gimme in the face of my own personal #365DaysofSewing challenge, but I enjoy interpreting challenges (mostly), & I like seeing how other people interpret them.
I'm putting together a sewing planning binder to keep track of the prompts, as well as my plans for other challenges/contests, & my own personal seasonal sewing plans. I bought the binder & the special six-hole punch during a 50% off everything planner-related sale at Michael's, stacked with a 20% off everything coupon. I just love that moment at the register when they're like, "Your coupons saved you $37," or whatever. The best is when you buy a bunch of patterns during a JoAnn $1 Simplicity sale & they say, "You saved $213!"
The one annoying thing about putting together this binder is that I was using construction paper that Jared bought several months ago to make a paper chain counting down to Ramona's birthday. So Ramona views the construction papers as HERS, & of course threw a tantrum when she saw me using it.
day 10: https://www.instagram.com/p/BdxoW0FnA7k/?taken-by=ciaraxyerra
This was my to-do list for the day. I managed to get like three things done. One of those three things was embellishing these handwarmers/fingerless gloves I made. I was using flat-back plastic rhinestones & hot glue. Turns out…hot glue is not the most intuitive tool a person could employ. But bonus: the fact that I have very little feeling in my extremities due to mysterious medical issues (doctors are leaning toward MS) meant I could burn the crap out of my fingers with 400-degree hot glue without it actually hurting that much.
I also whipped up a Muse Patterns Jenna cardigan. I made one a few years ago but rarely wear it because the fabric I used likes to ravel & is viewed by cats as essentially just an irresistible ball of yarn that I happen to be wearing. I made a waist-length short-sleeved version last spring & found that I really liked that length. But I never blogged it because Kansas basically has two settings: cold & hotter than hell. We just don't have a climate that invites things like short-sleeved cardigans. I also used black interfacing on a yellow hacci knit, which was a dumbass move. So this was my attempt to make a cardigan that will actually get worn, & I think I nailed it!
day 11: I was not really pleased with the hot gluing job I did on the handwarmers. So I made another pair. I just "drafted" the pattern myself by tracing around my hand & adding seam allowances. They were sewn from scraps. Jared suggested embellishing them with a knuckle tattoo motif, so this is what I came up with:
Hand-embroidered! As if you couldn't tell.
I also accepted the reality that I really need to wash the bolt of Cone Mills denim I bought during the mill sale over the summer before I try to make it into anything. So it went into the wash, along with two yards of other denim I bought for stripes month over at the Sewcialists blog. I don't know what the fuck happened, but all the color leached out of the other denim, & the indigo from the Cone Mills created a horrifying kind of batik/tie-dye situation on it. The Cone Mills itself washed up no problem, even though it was a gigantic ten-yard cut.
I thanked Jeebus that I had had the foresight not to also toss in some delicate light-colored seersucker, which would have been ruined, & started pondering whether this weird light gray stripes-with-navy blue-batik situation was remotely tolerable or if I was going to have to dye the yardage to make it wearable. I'm still undecided.
day 12: Cut the back pockets for THREE pairs of jeans, each a different pattern from a different company. I was like, "Oh, I'll just embroider these really quick so they're ready to roll when I magically sew three pairs of jeans tomorrow." What the fuck, Ciara. It's not like I've never done embroidery/cross stitch before & don't know that it always takes ten times longer than you think it will. I feel like I spent the whole damn day cutting out the pockets, interfacing where the embellishments will be, basting on the waste canvas…It didn't help that Ramona was being a handful. Every time I was more than two feet away from her, it was a national emergency.
But I did finally get around to making the mosaic for my #2018makenine. We'll just ignore the fact that we're already like halfway through January.
day 13: Weekend! That meant I could go clean my sewing room while Jared chased after Ramona. It looked like an apocalyptic hellscape. I should have taken before & after photos. It's still not great. There are piles of patterns & fabrics everywhere, stacked in a manner that only I understand, which means absolutely no one can touch any of my sewing stuff unless they want me to cry. But everything is useable now, & bonus: I picked up all those pins I spilled last week. Yes, it took me this long. Let's collectively ignore that I STILL haven't swept up all the sequins that are all over the place from when I made a pair of sequinned leggings A MONTH AGO.
I printed a pattern.
day 14: It's so cold. I just couldn't bear the thought of going to the sewing room. So I was like, "I'll just work on these pockets all day & make awesome progress!" This is how far I got:
Just that tiny bit took more than an hour, after which I became deeply discouraged & fell asleep. When I woke up, I decided to just read for the rest of the day. I read two books & one magazine. Sometimes you just need a break.